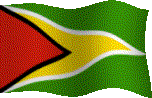 Golden Arrowhead
National Flag of Guyana
The National Flag of Guyana, the Golden Arrowhead, has five colours - green, red, black and white. The principal colours being green, gold and red.
The flag has the unique design of two triangles (one within the other) issuing from the same base. The outer triangle is gold-coloured (arrow-shaped) with a narrow border of white along two sides. The inner triangle is red with a narrow strip of black bordering the sides.
The background of the flag is green, representing the agricultural and forested nature of Guyana. The white border represents the rivers and water potential. The golden arrow represents Guyana's mineral wealth and the black border the endurance that will sustain the forward thrust of the Guyanese people.
The red of the flag represents the zeal and dynamic nature of the nation-building that lies before the young and independent Guyana.

Guyana's Coat-Of-Arms
The Coat-Of-Arms
The national Coat-of -Arms of Guyana was designed by three Guyanese artists. It is interpreted as follows...
The Amerindian head-dress symbolizes the Amerindians as the indigenous people of the country. The two diamonds at the side of the head-dress represent the country's mining industry. The helmet is the monarchial insignia. The two jaguars holding a pick axe, a sugar cane and a stalk of rice symbolize labor and the two main agricultural industries of the country - sugar and rice. The shield that is decorated with the National Flower, the Victoria Regia Lily, is to protect the nation.The three blue wavy lines represent the many waters of Guyana. The Canje Pheasant, the National Bird, at the bottom of the shield represents a rare bird found principally in this part of the world and also the rich fauna of Guyana. The streamer below the shield bears the Nation's Motto:
ONE PEOPLE, ONE NATION, ONE DESTINY
The Coat of Arms was accepted by the Guyana House of Assembly on Friday, February 25, 1966.